Welcome to SpiraVeg
We are proud to be the provider of the highest possible quality spirulina to our valued customers. Our vision is to impact word health by providing the best, most convenient, high-quality spirulina products to consumers across the globe, so that everyone, every where can access this super food every day. 
At SpiraVeg, we aim to create a food culture that bridges the gap between convenience and high-quality nutrition. We believe that all people deserve access to food that fuels, heals and energizes. We are committed to providing the highest quality, nutrient dense, convenient spirulina products. SpiraVeg spirulina is superior to other spirulina product available on the market.
SpiraVeg spirulina is proudly grown in Calgary Alberta, without the use of pesticides or herbicides. Our fresh and frozen spirulina products are completely tasteless, odor free, 100% vegan and insanely nutritious. SpiraVeg spirulina is the perfect addition to any well-balanced lifestyle.
Whether you're looking for an energy boost, a convenient superfood with more nutrients and fewer calories, a plant-based source of protein, ag-defying antioxidants, or a healthy detox solution, you'll feel the difference with SpiraVeg spirulina.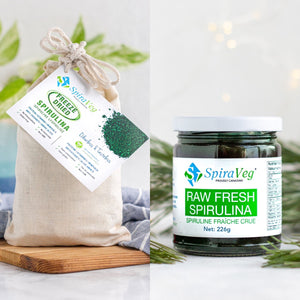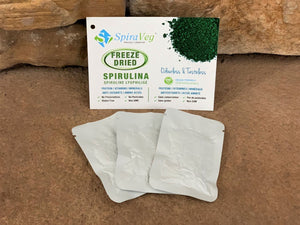 Freeze Dried Trial Packets
Freeze Dried Spirulina Packets (2g each), free shipping across Canada
Get the Trial Packets